1. How do Canadians / Windsorites View Addiction and Harm Reduction (see WECOSS report)?
Only 3% of Canadians feel their provincial government is doing a "good job" in dealing with drug use and addictions
59% of Canadians favour the decriminalization of illegal drugs
66% of Canadians say they would be in favour of supervised injection sites
61% of Windsor-Essex residents said a supervised injection site would be helpful
The most common benefits associated with a supervised injection site, as identified by respondents:
A reduction of used needles on streets and parks
Less risk or injury and death from drug overdose
Less use in public areas
Lower risk of diseases like Hepatitis C & HIV
Connecting people who use drugs or their families to medical and/or social services
Full Report
2. The Work of WECOSS (four pillars)
The Windsor-Essex Community Opioid and Substance Strategy (WECOSS) supports the development and implementation of comprehensive solutions and community-level initiatives to reduce the harms associated with substance use and enhance the quality and range of services and supports for substance use issues in this region.
WECOSS utilizes a four-pillar approach to address the harms of substance use at the community level:
1. Prevention and Education
Interventions that prevent or delay substance use.
Approaches that promote protective factors, such as healthy families, education, and awareness.
2. Harm Reduction
Interventions that seek to reduce the health, social, and economic harms associated with substance use.
Approaches aim to reduce the spread of communicable diseases, prevent overdose harms and deaths, and reduce consumption of drugs in unsafe settings.
3. Treatment and Recovery
Interventions that seek to improve the physical and emotional well-being of people who use or have used substances.
Approaches include counselling, residential programs, and community-based withdrawal programs.
4. Enforcement and Justice
Interventions that seek to strengthen community safety by responding to crime and disorder related to substance use.
Approaches aim to increase coordination between law enforcement and health services.
More Information
The Label Me Person "Anti-Stigma" Campaign highlights how the opioid crisis impacts our community and challenges stereotypes of people who use substances. Through the sharing of stories from members of our community with lived experience, the campaign challenges us to reflect on how we've been impacted by substance use, and how each of us can play a part in ending the opioid crisis through education, awareness, and the reduction of stigma.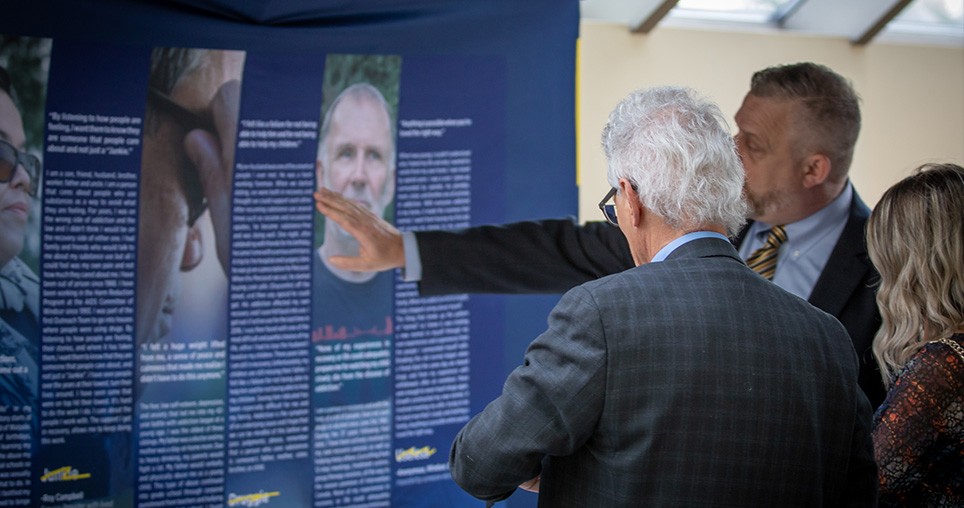 Our Community Educational Workshop series focus on the following topics:
3. Consumption & Treatment Services
This summer, the Label Me Person Campaign is launching its Opioids and Overdose Awareness Project (July-August 2021), with a series of events and educational opportunities provided leading up to International Overdose Awareness Day on August 31st, 2021.
Consumption and Treatment Services Panel Community Presentation
Drug Use Decriminalization and Legalization Workshop
Virtual Candlelight Vigil to honour those who've passed from an overdose
In-person Candlelight Vigil hosted by Reach4theStars
Workshops are great. But, what can we do on a day-to-day basis to destigmatize those who use substances? One very effective way is to start being aware of the language you use.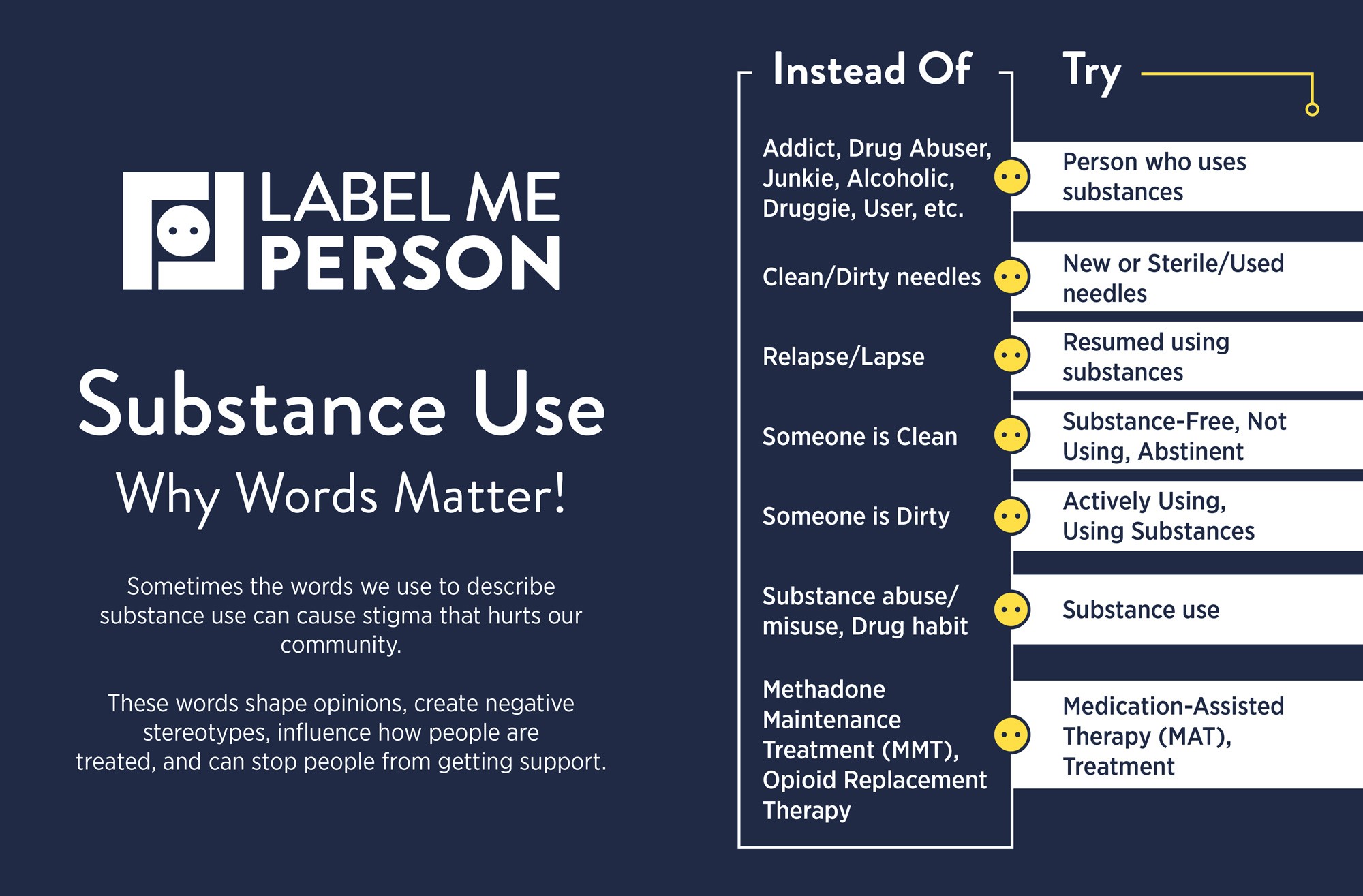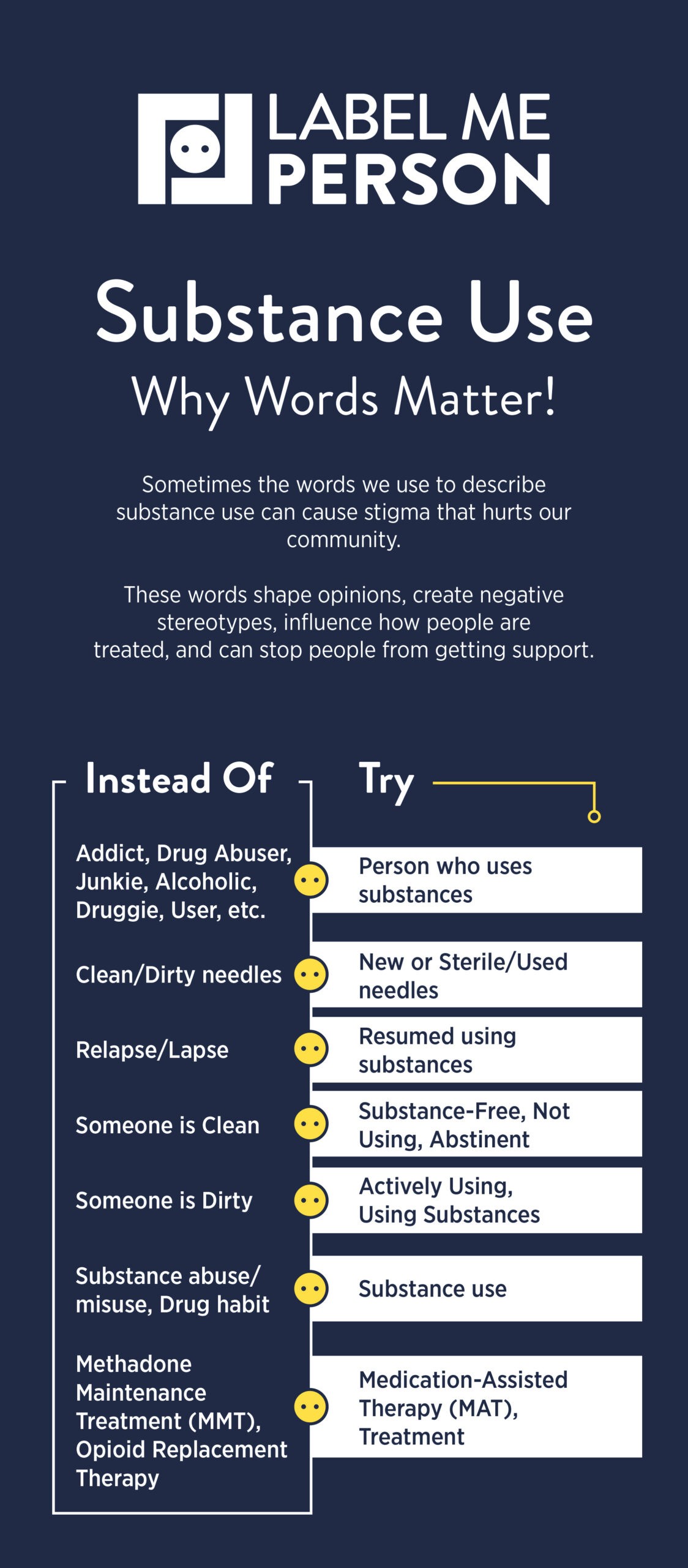 4. Naloxone, Overdose Prevention
One easy and very effective way to help with the opioid overdose crisis is to carry Naloxone.
Naloxone is a drug that reverses the effects of an opioid overdose. Opioids are a family of drugs, prescribed or acquired illegally, that treat pain and induce feelings of calm or euphoria.
Naloxone is available without a prescription at no cost from a number of pharmacies across the province as well as community-based agencies.
For more information on how to access Naloxone and how to respond to an overdose
Click Here
5. Harm Reduction Services
Needle Syringe Program (NSP):
Provide people with sterile drug equipment to reduce the transmission of HIV and other bloodborne viruses
The World Health Organization (WHO) recommends providing a minimum of 200 sterile needles and syringes per drug injector per year in order to effectively tackle HIV transmission via this route
NSPs have been recognized internationally as one of the most cost-effective public health interventions in reducing the spread of HIV
Many NSPs work to reduce harms by also providing:
Advice on safer injecting practices
Advice on minimizing the harm done by drugs
Advice on how to avoid and manage overdose
Information on the safe handling and disposal of injection equipment
Referrals to HIV testing and treatment services
Referrals to drug treatment and medication-assisted therapies
Referrals to wider psychosocial support and counselling
For information about local harm reduction services
Click Here
The engagement of persons with lived experience of drug use has the potential to augment the equity and effectiveness of harm reduction services
Peer engagement provides the following benefits to harm reduction services:

Fosters communication between service-providers and hard-to-reach populations
Builds trust between service-providers and service-users
Increases the knowledge of service-providers
Reduces the stigma and discrimination felt by service-users

Public health research has shown the involvement of people with lived experience results in a reduction of health disparities, improved health outcomes, and an increase in utilization of health services
The Label Me Person Campaign includes narratives and videos of persons with lived experience and is always seeking to engage more persons who are able and willing to share their stories. If you would like to share yours, please contact us at executivedirector@pozitivepathways.com
To access stories and videos of persons with lived experience
Click Here
Harm reduction strategies and tools should be accessible to everyone. The Label Me Person Campaign recognizes the importance of educational opportunities to destigmatize persons who use drugs and demystify harm reduction in general

The Label Me Person Campaign provides presentations that cover three topics:

Harm Reduction
Opioids and Naloxone
Consumption and Treatment Services
Click on the button below to schedule a presentation 
Click Here
Addresses the inequities in access to harm reduction services
Evidence demonstrates that mobile outreach services can successfully increase use of sterile drug equipment and reduce the transmission of blood-borne viruses
Positive Pathways Community Service's Yellow Umbrella Needle Syringe Program continually strives to provide low-barrier services to populations that often face many challenges in accessing services and resources
Our mobile delivery team provides supplies to service users throughout Windsor-Essex and Chatham-Kent
For more information about mobile delivery
Click Here
Advocacy: Decriminalize & Legalize
What is drug decriminalization?
Persons caught for drug possession under a specified amount would not be prosecuted
Penalties would range from no penalties whatsoever, civil fines, drug education, or drug treatment
Production and sale of drugs would remain illegal under this model
What is drug legalization or regulation?
The removal of all prohibitions against previously illicit substances
Drugs would become available to the adult population for purchase and use
Production and sale are regulated by governments (e.g. tobacco, alcohol, prescription drugs, etc.)
In combining both decriminalization of drug use with the legalization of drugs, we could:
Reduce problems that cause greatest public concern, such as crime, corruption or violence as it pertains to the illicit drug market
Reduce overdoses caused by the absence of quality controls on drugs
Slow the spread of infectious diseases from people sharing needles
Abandon costly and largely ineffective efforts to suppress the supply of illicit drugs
If you are interested in learning more on this topic, join us for our webinar on International Overdose Awareness Day (August 31st).
Register Here
Consumption & Treatment Services (CTS)
CTSs have gone through a rigorous application process before receiving approval from the provincial government
These are located in permanent structures
Provide the following services:
Supervised drug consumption
Wound care
Overdose prevention services
Onsite referrals to primary care, mental health, housing and other social supports
Harm reduction education
Distribution and disposal of harm reduction supplies
Provision of Naloxone and oxygen